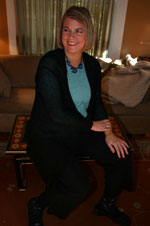 Deepened by working 25 years as a licensed psychotherapist and massage therapist, my current teaching and clinical practice focus on the mind-body connection and somatic education, including the Feldenkrais Method® and the Feldenkrais-based Bones for Life® bone strengthening programs, and Leadership Embodiment—the Aikido-based mindfulness approach of American Sensei, Wendy Palmer. My desire to study and practice the art of healing is deeply and strongly rooted in my heritage and my heartfelt interest in other cultures. I was raised in a family where many chose to serve in the field of medicine and attend to international concerns. From the time I was a young girl, I was fascinated by the world of healing, especially the ways different cultures approached healing practices. My desire to experience other cultures firsthand led me to study European history abroad as a Smith College undergraduate in Geneva Switzerland, receive a master's in French at Columbia, and teach French at the United Nations International School in New York. The privilege of exposure to students and faculty of many cultures strengthened my desire to incorporate a cross-cultural perspective in doctoral studies in Counseling Psychology at the Harvard Graduate School of Education, while receiving my clinical training in behavioral medicine and psychodynamic psychotherapy at Cambridge Hospital. My interest in cross cultural healing and the education of both healers and those healed led me to study with teachers from Native American and Tibetan Buddhist healing traditions, as well as with Moshe Feldenkrais, Israeli physicist and Judo Master, who was a pioneer in somatic education. My dissertation, "Education as Transformation in American Psychiatry: From Voices of Control to Voices of Connection"(1995), delineated the importance of empathy and "somatic empathy" among a wide range of healers and teachers. These included a sample of psychiatrists from the U.S., Feldenkrais somatic educators, Ju/'hoansi (! Kung) healers in the Kalahari Desert of Africa, and indigenous healers from Fijian, Cherokee, and Tibetan Buddhist healing systems. All emphasized the need for the individual to compassionately strengthen his or her own ability to heal and be healed continually throughout the life cycle while remaining in relation to community.
I have applied my multidisciplinary background to help musicians, athletes, equestrians, somatic educators, dance movement therapists, personal trainers and coaches, and other health professionals. Currently, I teach Feldenkrais-based classes at Lesley University, Longy School of Music of Bard College in Cambridge, MA, and in the greater Boston area. Since 1984, I have served as adjunct and part time core faculty in the Independent Study and Self Designed Masters Degree Program at Lesley University. In 2005, also at Lesley University, I coordinated and was faculty in the first academic Bones for Life Feldenkrais-based osteoporosis prevention bone strengthening program in the world. Likewise, in the Expressive Therapies Division at Lesley University, I currently teach experiential Anatomy and Kinesiology (GEXTH-6260).
In 1997, I co-founded and began to teach in the Mind/Body Department at the Longy School of Music so that students and faculty might benefit from mind-body awareness as part of their development and practice as performing artists and teachers. My publications include an article "Connected Knowing and "Somatic Empathy" in the Spring 2000 issue of Revision (pp 15-23) and a book chapter co-authored with physical therapist Lisa Cohen entitled "The Feldenkrais Method" in Complementary and Alternative Medicine in Rehabilitation (edited by Eric Leskowitz, MD and published by Churchill Livingstone/Elsevier Science in 2003).
My husband, Richard, and I enjoy dividing our time between our homes in Needham, MA and Bristol, VT in the Green Mountains.